Awards Ceremony
And the Awards go to...
---
Caroled for M45
This was a really fun Challenge! I am still seeing the world through "yellow" glasses. A flower here, a yellow car there. Just last week a cactus was blooming its bright yellow flowers... a bit late for the Challenge.

Actually I really didn't want to use flowers as my subject, but when I saw the double yellow Hibiscus bush in my neighbor's yard I couldn't resist and took a few macro shots.
I based my manipulations on Janee's Watercolor tutorial with lots of variations.... Janee always says experiment.....It really made the flower seem transparent.
Thanks to all that chose my flower and thanks to Janee for letting me show it off!!!!
As always
Carol
---
Janee

This row of trucks was calling out to me as Michael and I were driving down a state highway in northern Indiana. Tiny dealership ... with these six identical trucks! The salesman thought I was quite the picture myself, practically on the ground as I composed my shot!
Thank you to everyone who participated in this Challenge! What fun!
Always me, Janee
myJanee.com
---
Joanne Johnson

My thanks to all for choosing these 2 images as winners in this Challenge. I really thought that yellow was going to be a very limiting idea, but with all the wonderful images created in yellow, I now think not!
The fish involved a lot of mask editing work, transformations (particularly the new Warp Tool in CS 2 to make the zipper fit the lines of the fish body).

The banana, a painting done entirely in Photoshop, was done just by determination to paint…a banana! I did trace a photo and then use different hard and soft brushes, varying their sizes and opacities and flow, all worked over 14 layers. I was pushed into painting this banana by taking Janee's Photos into Art Course! It is a most wonderful feeling when the object you are painting suddenly becomes real looking to you!
Thanks again, to all and especially to Janee, for providing the motivation to reach beyond old ideas and methods to try something new and exciting!
Joanne
My Home Page, which is much in need of updating!
---
Kim Sallaway for P29

I never know what waits for me around the next curve, so I always have my camera bag with me in case that bend reveals a photo subject/ opportunity. This was the case with the "earth packer" image. Thanks for voting for my entry!
Remember... you can't have fun a camera if you don't have it with you when you need it.
Thanks you to Janee and her posse for the challenge opportunity.
--Kimba
www.KimbaCan.com
---
Krisse Hill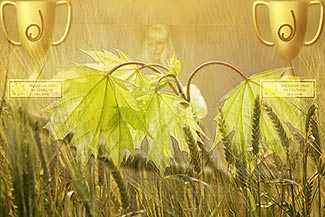 This Challenge did have so many splendid artworks and choosing just a few of them was really hard.
I would like to thank you all for voting my works and it was nice to see so many entering this Challenge.

It was a pleasure to see your great works. I would also like to thank Janee and Dorothy for making this all happen.
You are welcome to visit my homepage -- http://krisse.tuna.fi/
--Krisse
---
Mick for D22
What a very nice surprise, thanks for the votes. Well done everyone for sharing your ideas and techniques, and of course thanks to everyone who helps to put this site together, Janee brings out the best in us all.
I painted this picture in PS7. After making a sketch with the pencil, I used the oil brushes with variations in shape, colour and opacity dynamics in the brushes palette. To blend the shades of colour I used the smudge tool, building the picture up using roughly 32 layers (thank goodness for layers!) which allowed me to make changes to areas I was not happy with.
Mick

---
Paul Attrell
The image was of a standard new design of Post Box (UK - Pillar Box) found in Nicosia, Cyprus. I also took one on the same day of an old design one still bearing the GR monogram from the days when Cyprus was a UK Colony.

I had been reading an article in a magazine recently with guidance on how to achieve the mosaic / montage look and thought that that particular technique would help to give the relatively boring subject a bit of impact. By fading the background into a pale blue it gave extra impact to the yellow. (The picture is of me in Cyprus)
Once again, very many thanks and I look forward to your next Challenge. In the meantime I am off to Goa this weekend!
--Paul
---
Pernel S. Thyseldew

One October morning, on the path from my front door, I encountered a carpet of freshly fallen Ginko leaves. I tossed a few handfuls onto some redwood driftwood and shot this with a Nikon D100 and a 60mm Micro-Nikkor lens, handheld in natural overcast light.
Thanks to everyone who participated this month and voted for my work. I went to my archives for this Challenge and I felt these autumnal golden Ginko leaves fit the category well.

This stylized photo of Pernel was shot in 1998 at the Hog Farm PigNic in Laytonville, California and was the first digital foto of Pernel ever "tweaked" in Corel and Photoshop.
--Pernel S. Thyseldew
http://www.digthatcrazyfarout.com
---
Sophie for D04

I created the background you see along with the clouds and sun about a month ago. I added the crane and the foreground for the Challenge. The crane was sketched from a photo off the net and painted in. I then added the rest of the foreground. This was done using Painter IX.5 watercolour brushes.
I'm delighted to have won a cup among so many clever and attractive entries. Thank you for your votes and your generous comments. And thanks to you Janee for all the effort and inspiration that goes into this fun and friendly Challenge.
--Sophie
---
UKTony for P16

Once again I am speechless. I only sent this in as an afterthought as my knowledge and expertise in Photography is "zilch". I had promised my friends in the Community that I would take some snaps of my visit to India. Here is the link please feel free to visit:
http://myweb.tiscali.co.uk/swanland/html/india.html
A big thankyou to all for this unexpected award.
Best wishes
--Tony (UK-Tony)
---
Wannabe
Thanks to all who voted, and to Janee for another great Challenge contest.

My entry was done in real media, oil on poster board. The idea was from a cottage on the river near where I live which is lovely at sunset. I did a very quick sketch of the cottage, and then laid in the colors I wanted in a oil and turpentine wash. Next I laid on a heavier color and did the outlines in a darker color for accent. I wanted a loose feeling painting so I used wider heavy strokes for the finishing touches.
Thanks again and hope to see you in a future Challenge.
Ken Springer (wannabe)
---
Fine Print
All entries remain the sole property of the artist and may be used elsewhere only by permission of the artist. The artist is responsible for ascertaining that any material that used from another source is not in violation of international copyright laws.
Disclaimer: Janee is making no money of any kind from the organization of this challenge. Janee makes no advertising revenue from this site and no profit from the sale of merchandise.
Always me,