Thursday, 6 April, 2006
We're back home again in Indiana! I'm going to try out a blogging site and you can see my Journal's last two entries at Blogspot. This will be easier to keep up with when I'm traveling, I figure.
Wednesday, 8 March, 2006
The time is going soo fast! Michael and I are having a wonderful time here in Tucson, keeping very busy with work (me) and play (both of us)!
We've adopted a comfortable routine around our various club outings, our walks, daily chores, and my teaching. We've been active in the Computer Club, Camera Club, and Hiking Club. I took a wire-wrapping class, and we are taking a Ballroom Dancing class.
And we've had great food, both home-cooked and eaten out. Every Wednesday is a Potluck Supper, and I've made pies. Next year, I'm bringing along more of my recipes.

This has been, hands down.. the best winter of our lives! The highlight for both of us, besides my PS classes, has to be our hiking! I have posted lots of hiking pics which you can see HERE! As you can tell by that page, many more are coming!
Wednesday, 15 February, 2006
What a great time we're having! I'm still playing catchup with my photos, but I just posted another bunch of them, including a Winter in Tucson index page. Bookmark this one. Lots of new pics. Each of the thumbnails on this index page will take you to a whole gallery of photos.
We just returned from the Potluck Supper. They do this every Wednesday, and it's great fun. I always bring a pie and this week's pie was a peanut butter with chocolate ganache. Mmm!
We took a hike on Monday with our friends Pete and Jack, and then on Tuesday, we did the Hiking Club hike. The trail with Pete and Jack was to Blackett's Ridge and... well, you have to wait till I post the photos. Suffice to say that it was strenuous! Tuesday's hike was much easier.
Thursday, 9 February, 2006
We really are loving Tucson, indeed! We find that we really love the people here at Far Horizons and they have embraced us, as well. We have involved ourselves in many of the park's activities. We love the hikes!
The cost of living is quite low. We have found ourselves needing very little, and what we've needed we've found easily and inexpensively. Our cable here is half the price of at home!
The weather is a fascination to us. We are going through record amounts of lotion and drinking water, and we're amazed that you take a can out of the fridge and it doesn't get water on the outside of it, as it would at home!
We went up to Sun Lakes yesterday to visit with JohnD and JudyDi, both from my classes. After a wonderful dinner at Judy's, they presented me to their Photoshop Elements SIG, a group of about 50, and I gave them a little talk. It was really fun and very special to meet both of them and their spouses!
I'm almost done with writing my final lesson for Photorealistic Painting in Photoshop finally! The class just finished Week 3, and we're taking this coming week till next Wednesday off as a break. :)
I'll get some more pics posted soon!
Sunday, 5 February, 2006
Ok! Finally I'm posting some pics from Tucson! Click this thumbnail to get to the Tucson trip!

Sunday, 29 January, 2006
I'm still among the living! I will be posting more, just as soon as I can bring my head out of the water. I'm still feverishly working on writing lessons here in Tucson.
Michael and I are going to the Tucson Gem and Mineral Show today -- part of it. I guess it's a huge event, biggest in the world!
We have been LOVING it here at Far Horizons Tucson Village. The people are wonderful and the weather is great. Cold at night, but then into the high 60's, low 70's in the day.
We have joined the Computer Club, Camera Club, and the Hiking Club, and have been active in all 3. We're loving the Potluck suppers, which are every Wednesday. I've made pies for both of them -- blueberry and then a banana cream. :)
Wednesday, 9 November
Classes are going GREAT! All of my ideas about how to get interested students into my classes have worked very well. Of my 40 registered students, 32 have signed into the Board to say hi, and 29 have turned in their Lesson 1! I consider that to be good, although I would prefer to have 100%, of course!
Our RV is safely in our driveway! YAY! It was a difficult trip, but not because of RV troubles. Everything functioned great with the RV. They are still working on the LP hose attachment and the Sirius radio, because there is some part that they have to get in. But the TV works great and the electrical system seems to be working just fine.
While they had it, we told them to go on and winterize it. This is the process by which all the lines are cleared of water, and replaced with a potable antifreeze. Although we will be taking her out on the road again in January, one never knows what sort of weather we'll get between now and then. Once it's winterized, you have no use of water systems till it's de-winterized!
Well, so we overnighted in it on Saturday.

What this means is that we had to get creative in cleaning up and such. I'll not go into detail, but let me just tell you that there are MANY uses for Ziplock bags!

Here, finally, are some selected pics of the Mobile Mansion!

---
Wednesday, 2 November
It's easy to tell you where I've been for the past week + -- right here! I've been working on getting my class materials formatted for my online Photoshop classes which start today! I finally got it all looking good and sent out the Introduction and Lesson 1 yesterday and last night!
Now I need to get plugging on my new classes for January, as well as seeing that my current students are doing fine. I'm off to a good start with them, and my brain is flooded with ideas, so this is a very fun seat to be in now.
We're going to be picking up our new RV on Saturday, come hell or high water. They figured out that the electrical problem was in a relay switch. Actually Michael learned this from the internet! This is now fixed, the new TV should be installed, along with our Sirius radio, so we're happy.
People have told us that we ought to be mad, demand this or that. But we remain optimisitc that our RV will be wonderful, once they get these kinks out. The guys at Tom Raper's, from our salesman, Tim Smith, to the finance people, and all the repair guys, it's just been a really great experience all around.
---
Monday, 24 October
Well... where has Janee been? Good question! We WERE going to be on vacation, arriving home tomorrow. This was to be my birthday trip.
What we had planned was to go and pick up the brand new RV that we'd ordered. Then we were going to take it to the Northeast, where we were going to visit my Auntie Dots, Joanne, and Dave (OneRum) and have 2 glorious weeks of looking at fall colors.
Well… things didn't work out that way. First of all, the RV had several "adjustments" to be made. This kind of thing is normal with something so complex as a motorhome, so we expected to stay a couple of nights as they fixed things up.
Right away, there were a couple of little things -- some work needed to be done to fix some denting of a couple of the outside panels, a leak under the kitchen sink, and a heating duct that was not connected. Then the front TV wasn't working. Then a leak under the bathroom sink. And it seemed that every new day brought some new thing.
The guys were great about it, treated us as if we were their only customers. However, we never did make it out of Richmond, Indiana.
We finally decided yesterday to just leave the RV there with the service guys and we came on home. Michael has to return to work on Wed, and he's going to chill here while I try to get caught up and get ready for the classes!
The guys still have to get in our new TV for the front, fix the ABS/ATC light that is staying on on the dash, hook up the connector for the grill from the LP tank, and they have to get a new panel for this electrical thing. We're hopeful that this new panel will take care of whatever electrical problem has been causing us several headaches.
The latest of these headaches occurred ... Friday, I think it was. We had returned back to the RV and it was cool in there, so we turned on the heat pumps. Immediately, I heard a pop-sizzle noise that went on for several seconds. Then the whole back half of the coach filled with acrid smoke! We quickly unplugged and got out of there.. but then there was nothing. We thought we were going up in flames! We got the service guy right over there and he scoped it all over and couldn't find anything.
The smoke had cleared, and we were starting to think about bedtime, and ... just how DOES one sleep in an RV that may catch fire? We had plans to put Maddy in her crate in the car for the night (she would be fine) and then to sleep with our ladder right outside our bedroom window.
Well, then I looked in one of the cupboards and .. whew! ... big smoke smell. And then I saw the burn mark on the wall and the shriveled and burned surge protector that we had plugged in there. It had taken a huge hit of power surge (the source is one thing that they are going to find and fix!) and just burned.
Everything in that cupboard was covered in a thin black film, but nothing was ruined. Sooo... service guy came over and fixed that outlet and so we felt safe to sleep in there. They still don't know what caused it, but we have every confidence that they will have it fixed when we get over there next Friday or the following Friday.
During our time in Richmond Indiana, we actually had lots of fun. We visited several local stores, buying new things for the RV. We cooked and enjoyed delicious meals. We slept soundly in our new comfy RV bed. We brushed Maddy and vacuumed both the RV and her daily. (Maddy loves to be vacuumed with the upholstery attachment! LOL!)
We did our daily walks in Richmond, taking several different routes and discovering wonder and beauty. We didn't take hundreds of pictures, because most of what we were doing was not exciting by the standard definition, but we did get a few. I'll have them posted as I can get it done.
---
Friday, 30 September, 2005
Tomorrow is our local Breast Cancer Awareness Walk! See the site that I made for it! Michael and I are the Honorary Chaircouple and I guess we will have to say something at the beginning of the walk: "Ready, Set, GO!" LOL!
I'm getting our Colorado pics up gradually. I have the first 2 days posted now HERE.
If I ever say anything about "characterizing," "calibrating," or even "adjusting" my monitor, I want to be slapped .. hard. I can't get the colors right on 2 of my 3 right now. One's pretty good, one's green, and this one is yellow-orange! Urgh!
Taking Maddy and Eddie for their shots and we're going to have Eddie chipped today, in preparation for our next journey!
---
Wednesday, 28 September, 2005
We're home! We spent last week in Denver at Joel and Becca's wedding! What a time we had! I wasn't able to update our trip journal daily (at all, in fact), so I'll be posting pics as soon as I can. I'll link to that journal from here and from my Travel Index page.
I posted a new Tribute today! It's from UKTony, one of my students in Starting with a Blank Canvas.

Classes are going very well, and I'm amassing a tidy number of email addresses for folks who want to take my November Photoshop classes too!
The cable guy is coming to check our demonic cable box today. The thing just decides that IT wants to record something and it jumps off of whatever we're watching to go record ITS favorite shows. <shudder>
---
Thursday, 16 September, 2005
I've been working hard on lots of things lately. Mostly, for the past several days, I've been drowning my sorrow in.... a new site interface! Click my site's logo above and then hit Refresh if you don't see the bulletin board!
Actually, I'm feeling great. Our new RV is still making its way through the factory, but we are trusting that it will be here on time. The tree guy is supposed to take care of our trees ... soon. We're looking forward to nephew Joel's wedding to Becca in Colorado next weekend, although I'm still trying to scrounge up clothes.

I know that no one will be looking at ME anyway, but still... I don't want to have to use PS to come up with decent clothes for the pictures!
Speaking of pictures, I really need to get busy on the pics from last weekend! And... it's well nigh time to update that pic of me at the computer. My hair is ... lots better now, finally covering my ears again!
Classes are going great! My students never cease to amaze me with their creativity in interpreting my assignments.

Actually, I love when they veer off the road, because it's those off-road adventures that lead to discoveries -- and they then share their discoveries with me and the rest of the class. It makes for a very exciting time!
---
Wednesday, 7 September, 2005 (edited 16 Sept)
Whew... it's been a tough several days for me.
Due to some irreconcilable differences between me and the administration, I've decided that after this session, I'm leaving LVS, the online school where I've been offering my Photoshop and Elements classes since March of 2004.
These "differences" sprang up because of the contest that the LVS folks announced right at the beginning of registration for the September session. They posted and announced through email that the person who made the most referrals of new students would win a prize... and that the people who had put the winner down as their referrer would also win. Their prize was 20% off of their Sept classes.
In addition, anyone getting 3 or more referrals would get a tote bag, as would the folks whom they referred. Neat contest. I liked the part about giving the students $$ off, so I bit. I sent announcements far and wide. I even announced the contest in this Journal on August 2.
So I did well. I referred 14 people who actually put my name down as their referrer.
Then when the results were announced, it was stated that these people were going to get a tote bag. ... Period. Confused, I wrote to the administrators and asked ... "What about the 20%?" I just assumed that they'd forgotten to mention that part.
It turns out that they had taken that part OFF the site, when they decided that it would be too costly to implement. And they didn't tell anyone because they assumed that no one had seen it.
Of course, since I had made that promise to everyone, that's now my obligation to fulfill. LVS has since told me that they will cover it, giving people the choice between a $5 refund or a $5 certificate for future classes, which is lame, because I'm not even going to be there.
So if a tree falls in the woods and there is no one to hear it, does it make a sound?
I feel that honesty is doing the right thing, even when no one is looking. This current session now underway is my last with them.
However, the bright light in this is that I am going to be offering my classes (I have written and own all of my class materials) on this site, beginning in November! And Joanne's going to continue to work with me!
Now.. if you're one of the people who opted for the LVS coupon, relax. I'll honor that for my classes!
So... that's what I've been up to starting on Labor Day.
---
Wednesday, 31 August, 2005
It's just about time for me to get a new photo for over there. ==> My hair's getting longer! YAY! I now have all the layers grown out so that it's all even, and covers my ears and my favorite loop earrings completely. What a relief!
This past weekend, we were the social butterflies. We went to dinner with Charlie, Flash, and their 2 li'l daughters at China House. She's a very neat person that I met from my Hoosier Flylady group.
Then on Sat, we went to great nephew Spencer's 3rd bday party! I got a few pics of the kids playing happily with trains on the very cool table that Dad Adam made!

Sunday, we had a delicious dinner at Carla & Roy's! And then Monday, I had lunch with sis Annette and niece Lisa and ... don't forget great-nephew Brayden!
After that, Michael and I went to the White River Gardens to see the Butterfly Show:
Ok... here are some more pics. Click the pic here to get to the story and clickable slide show for the event:
Home-a-Rama on Aug 20, 2005

So there you have it! I'm working this week on my Lesson 3 for PS Launchpad, which I will be teaching on my own website. (details to follow). I still have a bit of tidying up to do for the classes that start this Saturday, too!
---
Friday, 26 August, 2005
Urf.. I know that I'm getting behind when I get emails goading me to update this!
I've been working like a maniac trying to get my September session classes ready. I've been of the mindset "September? That's 'way next month!" I made some new icons to mark explorations, projects, tips, and questions, and I'm getting these all put into place. Plus I have had to integrate my changes in my "intro" page into the classroom intro page. Arf. It just seems to go on and on with these little things. Once I get that caught up, it'll be time to post my "welcome to this class" messages and then to resume work on my 3 new classes that i'm hoping to have operating for the November session.
I did upload a new tutorial, which I still don't have linked to my main tutorial page. (Not sure if I will) It's on Copy/Paste in Windows. If you ever have to explain to someone how to copy/paste, or how to do a screenshot in Windows, this tut may be a good thing for you to have on hand.
Lessee... what else is going on? My panda continues to grow and be cute....
I discovered a cool calendar page with customizable templates you can print for planners and such.
Looking for a background for your website? Here is a collection you may NOT want to consider. It's good for a laugh! Look at all of them, but don't miss #30.
And if you're into optical stuff, here's a neat collection.
Looking for something fun to do with your kids/grandkids? Some of these are harder than others. All look like great fun!
And, for those of you who think that diet soda is the answer to your weight dilemma: Check this out. Reaffirms what I've always thought.
---
Wednesday, 17 August, 2005
The panda... I got a shot of it taking little steps ydy. The mother actually turned it onto its belly and tried to nudge it along. The baby took a couple of tentative steps and then collapsed onto its belly again. Of course I don't know if this was his FIRST steps, but it was a pretty cute sight.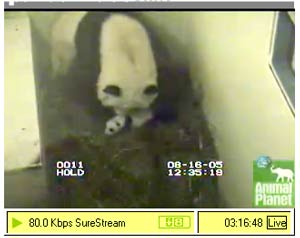 I took just a few pics at the fair. I'll use the rain as an excuse for not taking more.

I'm work work working on my new classes for the November session, and I'm pumped. I just love writing, and writing PS classes is the most fun of anything.
---
Tuesday, 9 August, 2005
The baby panda is a month old today! I've been watching Mama and baby way too much at the PandaCam link at Discovery.com. Now and then, I'll catch something really cute happening, and I shoot a pic with SnagIt. Here's one of my more recent ones: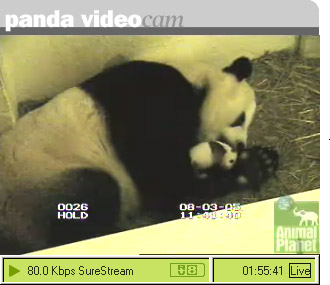 I'm going to the State Fair tomorrow with Suzanne. If I don't have pics posted here, I request to be throttled.
I've been working hard all day on my new Photoshop Course, Photoshop Launchpad. It will be a 3-part (18 weeks altogether) beginner series, chock full of what makes my tutorials and articles special. And what's that? It's whatever it is that makes you know that I care about your learning.
I'm also working on two other courses to be offered through my site, beginning in November. These will be an intermediate course on photo retouching and restoration as well as an upper-intermediate course on photorealistic painting in PS. (I just can't say "advanced" when I'm talking about a PS course. If you're looking for an "advanced" course, you should be teaching ME!)
---
Thursday, 4 August, 2005
Lots of votes coming in for the Challenge and lots of emailed questions. I just can't seem to get out of email today. I need to just close it and get on with other things, I know, but email is so seductive!
Leaves are coming down like rain today, though... we need rain more than we need leaves! By this time next year, I'm hopeful that we will have a couple less walnut trees dumping on the house, anyway. I did call a guy and got an estimate for our tree trimming, but things keep dragging us away and we have just not scheduled it.
I'm doing well with my studying, when I do it. PS is just so exciting that it's hard for me to progress through different things. I get stuck wanting to know all about one particular feature and spend hours on just that.

---
Wednesday, 3 August, 2005
This hasn't been the most exciting day, I guess, but I did learn some cool things. I'm studying for my CS2 recertification and piling up new tips and techniques to teach to my Photoshop students! Today, for example, I learned some things about CS2's Smart Object function. I'm planning to write a tutorial to explain what Adobe explains in a vague and ethereal way in a very clear, understandable, and fun Janee way!
Another very cool thing in CS2, one which I spent a good deal of time playing with ydy, is the Vanishing Point "filter." Why they call this function a "filter" defies all logic, but ... whatever it is, it is quite cool.
I MAY be teaching Intro to Photoshop at LVS Online after all! [update: I'm not going to be teaching anything at LVS after the September 05 session. Go to my Classes page to see what I'm going to be offering and how to get into my classes!]
My light is flashing off and on. Weird. Maybe it's time to change the bulb. Someday, I am going to make this kitchen into a real office.

---
Tuesday, 2 August, 2005
Another new month! Days are trickling right by. These past few have been pretty hot again, with highs in the 90's and "lows" in the high 60's.
Work goes apace. I am studying for the PS CS2 recertification test which I plan to take next Tuesday. If I don't say anything about it in here, that means "retake."

I am studying hard for it, though.
Art Challenge entries are due today, so I have to get the voting email composed and sent out, once I get the new entries posted.
My email inviting folks to take my PS classes at LVS seems to be working well. Don't forget: If you are a NEW student signing up for my class, and I referred you, please put my name and email address (janee at lvs online (no spaces) dot com) in the Comments line. If I "win" the referral contest, everyone who has MY name in that Comments line will get 20% off. And I get an LVS official totebag.

I'm just rereading my journal entry from June 30: "I have some writing projects I'm going to work on this summer and I'm pumped!" Of course, this year was no different from any others: I got the IGASS (I've Got All Summer Syndrome) and haven't yet done what I'd hoped to... but the summer isn't over yet!
---
Always me,